Custom Products
Let us make the right tape for your application
Custom Coating
At the heart of Advantage Adhesives, is our ability to coat pressure sensitive adhesives to the stringent standards that our customers require. Advantage Adhesives has 3 state of the art coating lines that allow us to coat virtually any product configuration that our customers might want or need.  From 1 mil up to 30 mils, transfer tape, double coated tapes, foams and fabrics, single coated tape or self-wound tape, Advantage Adhesives can meet your specific requirements.
Don't settle for a tape off of someone's shelf to meet your custom needs. Let us make what you need to do the job right.
1 mil up to 30 mils coating thickness
Full web flood coating or pattern coated available

Pattern coating 1/4″ wide and up
Slitting
Advantage Adhesives has the capability to meet your custom slitting needs. With our state of the art equipment we are capable of producing rolls from .25″ to 60″ widths and up to 28″ outside diameter. At Advantage Adhesives we specialize in slitting of tapes and pressure sensitive laminations as well as base films including: PET, BOPP, PE and other thin gauge films.
Slitting from .25" to 60" widths
3″ or 6″ Standard I.D. cores.
Narrow web slitting to 28" O.D.
Slitting of both pressure sensitive and non pressure sensitive products.
Spooling
By spooling rolls of adhesive tape, Advantage Adhesives is giving its customers the ability to eliminate excessive changeovers, cut the amount of operator handling of material, and splicing of rolls together. This in turn allows for longer, more efficient production runs, and lower costs.
3" or 6" I. D. Cores
3" up to 11.75" wide spools up to 21,000'

Standard lay down 6″ spooled tape on a 7″ wide core

Tape from .5″ up to 2″ widths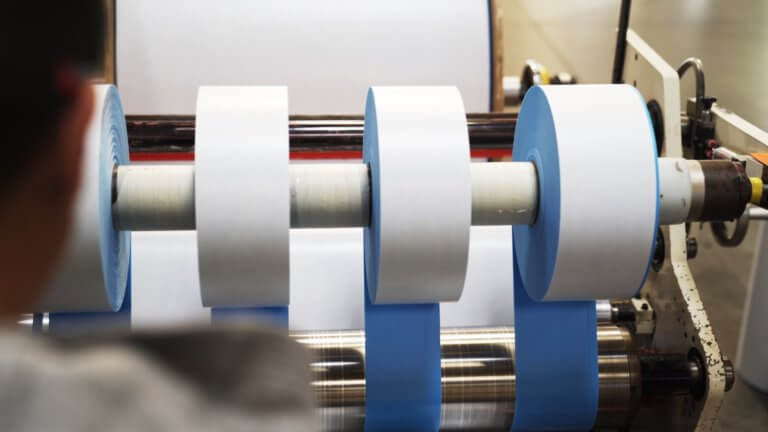 Raw Material Options
RAW MATERIALS
Adhesives
We source our adhesives from many different suppliers, all with very large portfolios to choose from. Our adhesives include: permanent high tack, permanent high temperature, removable and freezer grade adhesives.  If we don't have a solution with an adhesive we already use, we will find one that is right for your product.
Liners
We use a variety of release liners in both C1S and C2S formats. Base substrates include: Paper, PET, Metalized PET, BOPP, and MOPP.  Liners may be plain, or if printing is required,  a standard message is available, or we can have your custom message or logo printed.
Carriers
We have experience running a wide range of carriers. Some standard carriers are: PET, PE,  PP, foam, fabrics. If you have a need for a unique carrier option, we are happy to work with you to meet your requirements.